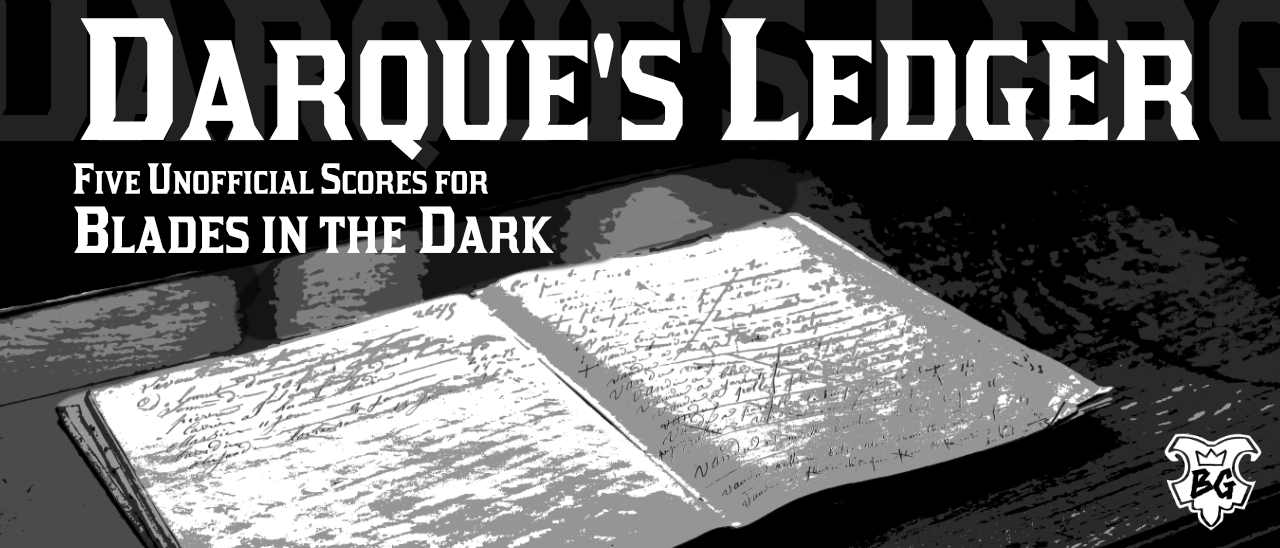 Darque's Ledger: Five Unofficial Blades in the Dark Scores
"Aye, Darque runs the Libertine theatre, home to all manner of grotesques and absurdities... but that's far from all he does. He's been in the business of scandal for a long, long time, and he knows a little something about everyone of note in the Imperium. Anyone who got ahold of that man's books would see Doskvol open up to him like a pretty mark. Or like a rib cage with a spreader, if ye prefer."
Got a crew in Doskvol itching to do some crimes? Darque's Ledger: Five Unofficial Scores for Blades in the Dark does what it says on the tin: offers five ready-to-go Scores for crews of all types including patrons, prizes, complications, notable figures, and clocks. Make a few rolls, sharpen your blades, and take 'em for all they've got.
PDF Includes:
Darque's Libertine: Doskvol's oldest and most scandalous theatre entices and repulses audiences from all walks of life. If you want the goods, you'd better put on your best performance yet.
Monster's Ball: Barrister Templeton's annual Monster's Ball features elaborate masks, a multi-table séance and the host's pride and joy: a clockwork zoo of animated, taxidermied creatures. And here's you, without an invitation.
Strangers on a Train: When they're out in the Deathlands, the trains of the Imperium are a nation unto themselves -- a nation rife with intrigue, secrets, and seduction. All aboard.
Through the Keyhole: Doskvol's most secretive (and expensive) pleasures can be had at The Keyhole, Silkshore's upscale brothel. But beauty is skin deep; the beastly goings-on beneath are one quick cut away.
Taking Stocks: Most crews steer clear of Bluecoat watch houses, but you're not most crews. Pull off a successful job on the law's home turf and your crew will be proper legends -- assuming you don't get thrown in the clink.
This work is based on Blades in the Dark (found at http://www.bladesinthedark.com/), product of One Seven Design, developed and authored by John Harper, and licensed for our use under the Creative Commons Attribution 3.0 Unported license (http://creativecommons.org/licenses/by/3.0/)

Purchase
In order to download this module you must purchase it at or above the minimum price of $5 USD. You will get access to the following files:
Darques Ledger - BitD Scores.pdf
3 MB