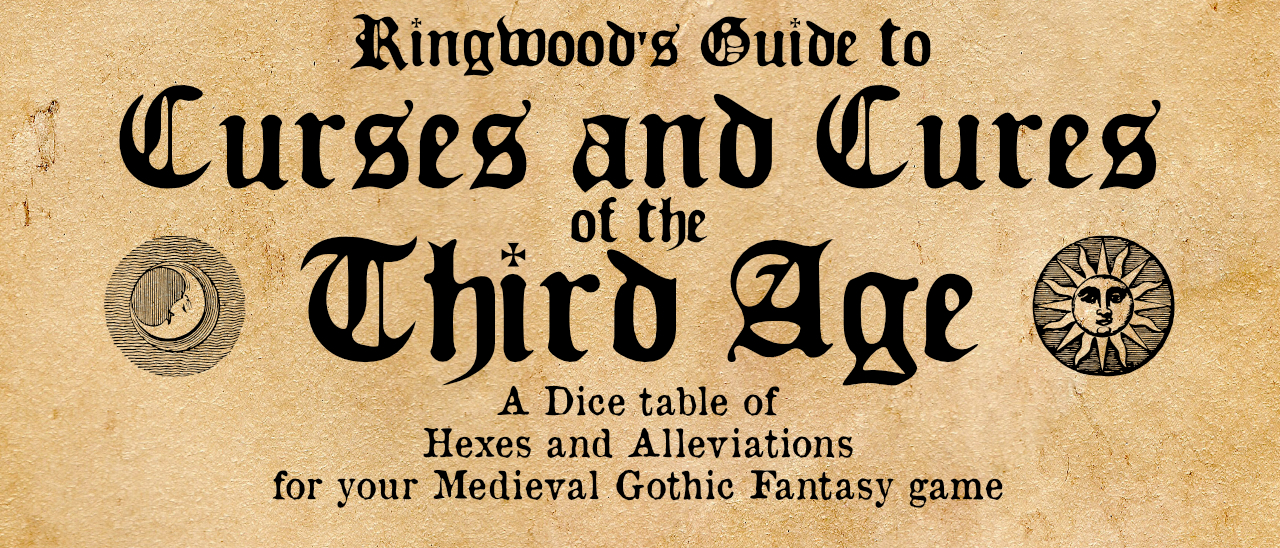 Ringwood's Guide to Curses and Cures of the Third Age
A downloadable dice table
"At great risk to his immortal Soul, Brother Ringwood has plumbed the Depths of common Hedge Magic to uncover that most Degenerate of wyrd wielding: Curses. Such is their Belligerent Potency that even the Lowliest commoner may humble great Kings and wizened Sorcerers -- provided there is enough Hate in their hearts to fuel it.
"The good Brother has documented here one of the most Common (and Powerful) Curse formulations, including dozens of Variations. Careful you do not Speak the words aloud as you read, Weary Traveler; you would not be the first to Curse Oneself!
"But fear not. Just as he reports on the Spiritual Ailments of the Age, so too does Brother Ringwood bring Benedictions to alleviate them. Certain deeds, Pledges and Offerings detailed here may reverse a Curse -- always at a Cost.
"You know well that nothing is free, Weary Traveler. Salvation least of all."
Ringwood's Guide to Curses and Cures of the Third Age is a Medieval Gothic Fantasy dice table for generating curses that may bring your characters low... and the path they may take to free themselves of the burden once more.
Roll the bones and chance fates ranging from the melancholy to the grotesque as your body and mind are assaulted by the venomous will of another. Then find out how you may relieve the curse... and decide if you have the will to follow through.
For further details on the Saints to Pledge to or Defy, read Ringwood's Guide to Saints of the Third Age.
And to learn more about where such offerings may be made, read Ringwood's Guide to Forgotten Places of the Third Age.
Includes one 1-page PDF with dice table.
Content and layout by Ken Lowery.
Purchase
In order to download this dice table you must purchase it at or above the minimum price of $1 USD. You will get access to the following files:
Ringwoods Guide to Curses and Cures of the Third Age.pdf
6 MB